Coming soon.... the DocuBrain Workflow Editor!
After evaluating all of the workflow editors out there, we felt that we had to develop our own. We were unable to find an editor that performed well while also being cost effective for our customers. Creating and implementing workflow processes can be difficult enough; the last thing you want to deal with is a flimsy and complex editor. Thus we bring to you the DocuBrain Workflow Editor!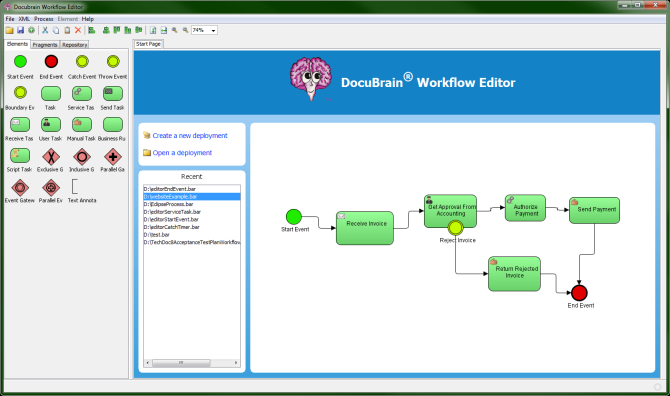 The DocuBrain Workflow Editor is BPMN 2.0 compliant and is packed with features. It is also tightly integrated with TechDoc to provide a seamless workflow experience. Currently our editor is built to target the Activiti™ Workflow Engine, but we will also be adding support for other engines in the future. Our editor is still in the development phase, but should be available in the next few months.
Tight TechDoc integration
BPMN 2.0 compliant
Very easy to use
Lightweight and powerful!
Multi-process deployments
Activiti-based process validation
Best of all, TechDoc Enterprise-level customers receive 5 licenses on us. Stay tuned!